This Hardcover Edition copy of Instant Mom has been personally Autographed by Nia Vardalos. Exclusively Made Available at PremiereCollectibles.com.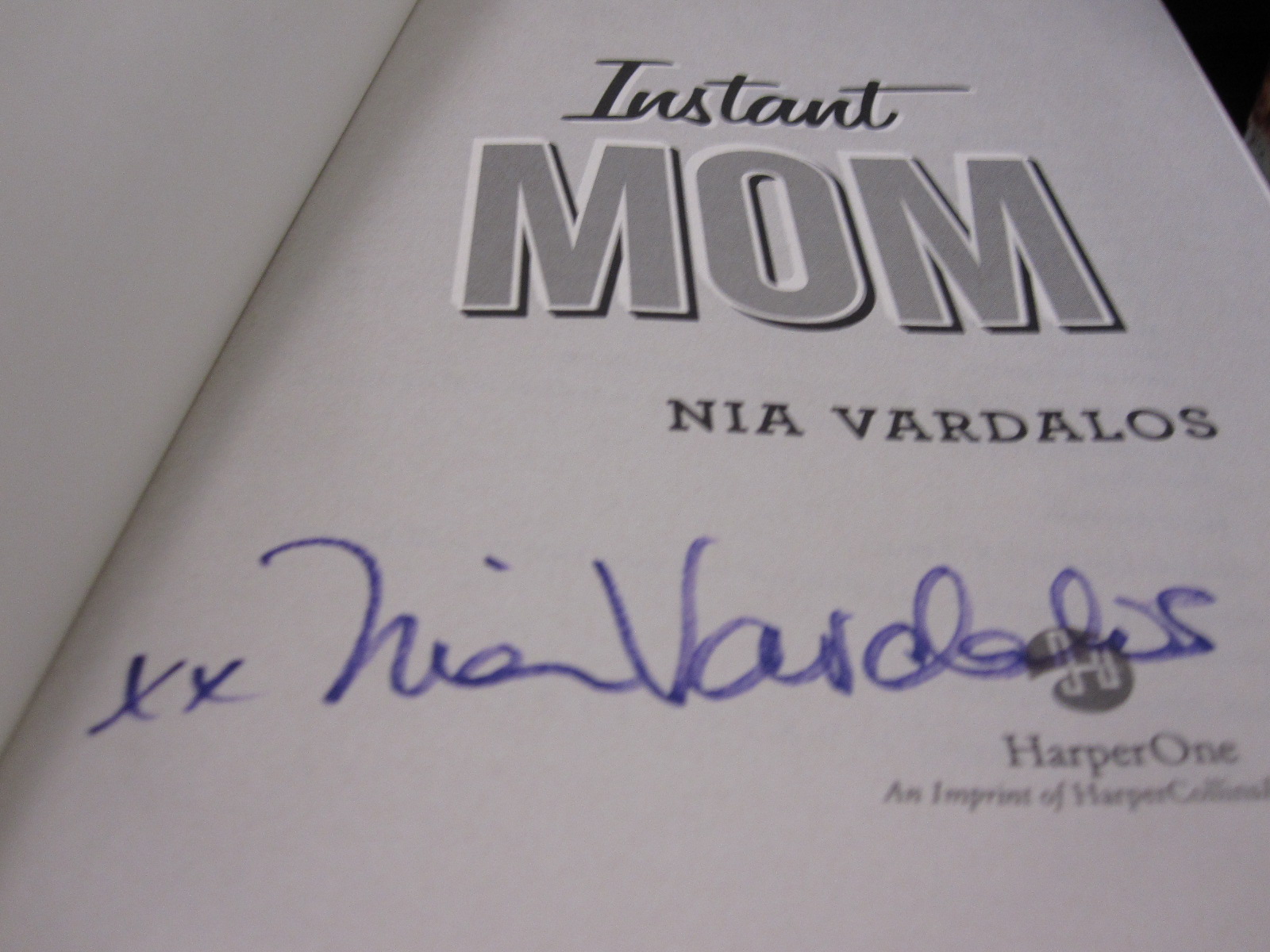 Some families are created in different ways but are still, in every way, a family.
Writer and star of My Big Fat Greek Wedding, Nia Vardalos firmly believed she was supposed to be a mom, but Mother Nature and modern medicine had put her in a headlock. So she made a choice that shocked friends, family, and even herself: with only fourteen hours' notice, she adopted a preschooler.
Instant Mom is Vardalos's hilarious and poignant true chronicle of trying to become a mother while fielding nosy "frenemies" and Hollywood reporters asking, "Any baby news?" With her signature wit and candor, she describes her and husband Ian Gomez's bumpy road to parenting, how they found their daughter, and what happened next. Vardalos includes a comprehensive how-to-adopt section and explores innovative ways to conquer the challenges all new moms face, from sleep to personal grooming. She learns that whether via biology, relationship, or adoption—motherhood comes in many forms.
In Instant Mom, Vardalos shares the terrifying joys of parenthood and for the first time reveals her stubborn optimism and perseverance on her trek to finally becoming a mom, instantly.
Limited quantities available, order your signed copy today!
About the Author:
Nia Vardalos is the Academy Award and Golden Globe nominated actress and writer of My Big Fat Greek Wedding. An alumnus of The Second City comedy theater, she also starred in and wrote Connie and Carla and I Hate Valentine's Day, starred in My Life In Ruins, and co-wrote Larry Crowne with Tom Hanks. Born and raised in Canada, Vardalos now resides in Los Angeles with her husband, their daughter, and many pets and is currently working on balancing her acting and writing career with motherhood and adoption advocacy.
Reviews:
"Laugh-out-loud and painful-in-the-shins.…The author holds nothing back as she chronicles the years leading up to the adoption." (Kirkus)

"I expected to laugh. I didn't expect to cry. And I certainly didn't expect to laugh and cry on the same page. Instant Mom is for anyone whose life plan didn't follow the path they anticipated, and shows us that unexpected obstacles can lead to beautiful rewards." (Rachel Dratch, author of Girl Walks Into a Bar)

"Funny, smart,and full of grounded wisdom that shines much-needed light on adoption I couldn't stop reading this hilarious and gripping rollercoaster of a story. Nia is an authentic, rocking female role model in so many ways...and being an instant mom is just one of them." (Jewel)

An instant classic. Refreshingly candid for all parents-plus anyone considering adoption. (I was adopted!) We know Nia is many things: writer, actress, director, musical theater lover! Here, though, you learn she is a mom first. Pure, beautiful honesty." (Kristin Chenoweth)

"Readers can feel the tension between desire to share her joy and good fortune and wish to maintain her child's privacy. Vardalos offers candor, humor, and poignancy in her account of adoption and parenthood as she pokes fun at parenting memoirs but delivers on emotional impact." (Booklist)

"If you have ever considered bringing a child who isn't an infant into your family, it's the book you'll want to read. And if you just enjoy a good, honest memoir, it's the book for you, too." (New York Times' Motherlode Blog)